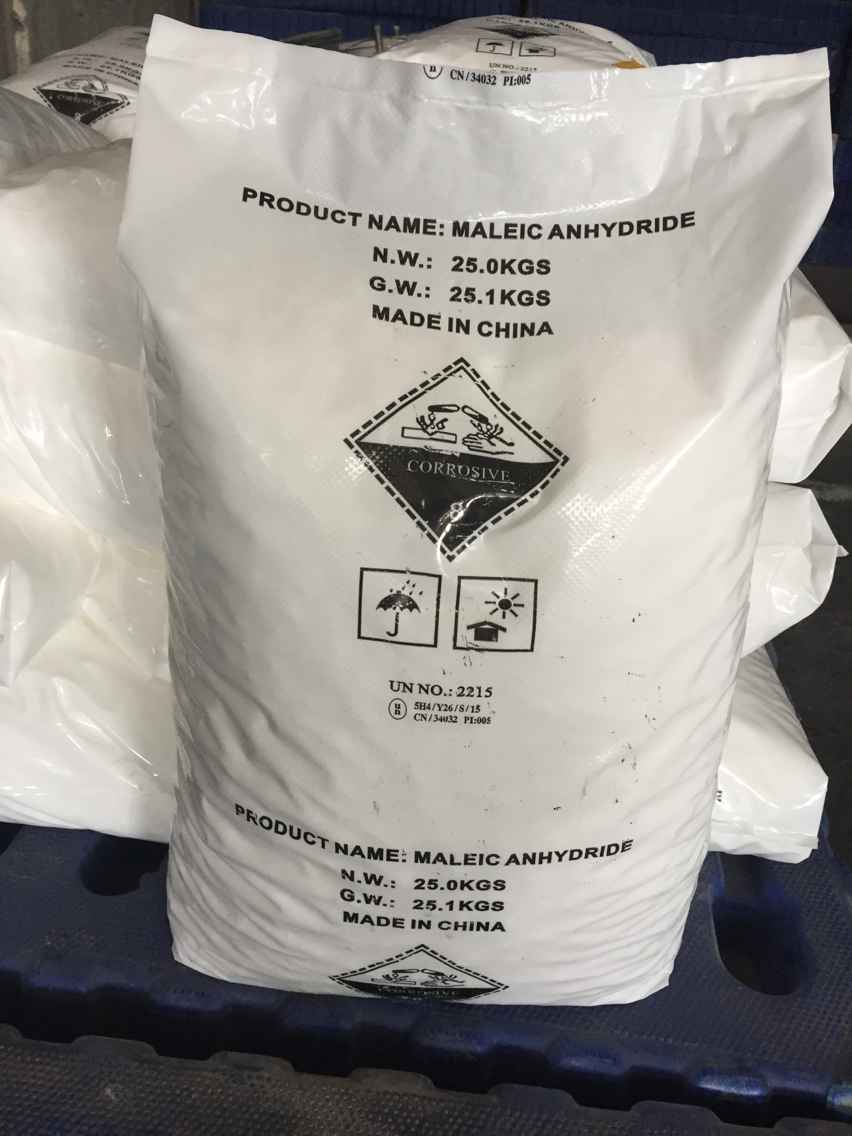 | | | |
| --- | --- | --- |
| Characteristics | Units | Guaranteed Values |
| Appearance | | White briquettes |
| Purity (by MA) | WT% | 99.5 min |
| Molten Color | APHA | 25 Max |
| Solidifying Point | ℃ | 52.5 Min |
| Ash | WT% | 0.005 Max |
| Iron | PPT | 3 Max |
Note: Appearance—White briquettes is about 80%, flakes and power is about 20%
APPLICATIONS:

Maleic anhydride is used in many applications.
Around 50% of world maleic anhydride output is used in the manufacture of unsaturated polyester resins (UPR). Chopped glass fibers are added to UPR to produce fibreglass reinforced plastics that are used in a wide range of applications such as pleasure boats, bathroom fixtures, automobiles, tanks and pipes.
Maleic anhydride is hydrogenated to 1,4-butanediol (BDO), used in the production of thermoplastic polyurethanes, elastane/Spandex fibers, polybutylene terephthalate (PBT) resins and many other products.
Diels-Alder reaction of maleic anhydride and butadiene and isoprene gives the respective tetrahydrophthalic anhydrides which can be hydrogenated to the corresponding hexahydrophthalic anhydrides. These species are used as curing agents in epoxy resins. Another market for maleic anhydride is lubricating oil additives, which are used in gasoline and diesel engine crankcase oils as dispersants and corrosion inhibitors. Changes in lubricant specifications and more efficient engines have had a negative effect on the demand for lubricating oil additives, giving flat growth prospects for maleic anhydride in this application.
A number of smaller applications for maleic anhydride. The food industry uses malic acid which is derivative of maleic anhydride in artificial sweeteners and flavour enhancements. Personal care products consuming maleic anhydride include hair sprays, adhesives and floor polishes. Maleic anhydride is also a precursor to compounds used for water treatment detergents, insecticides and fungicides, pharmaceuticals, and other copolymers.